Professional Cleaning and Fluoride
By scheduling regular oral health examinations, the Fresh Dentistry team can plan and implement effective treatments as well as identify issues whilst still in their early stages. Early detection can eliminate the need for more extensive treatment procedures at a later date as problems evolve.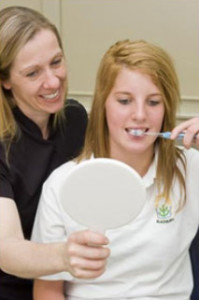 Root planing and scaling is a treatment therapy conducted by our highly qualified dental Oral Health Therapists and involves the removal of plaque build-up that has become calcified, known as calculus; it is also sometimes referred to as tartar. Gum disease is the main cause of tooth-loss in adults and develops when calculus is not removed from under your gum-line, a task that cannot be achieved by brushing and flossing or using a Pikster.
Calculus builds up in the mouth causing red, swollen and bleeding gums. After a period of time the gums move away from the teeth, this can cause sensitivity to heat and cold and eventually lead to tooth-loss.