Preventative Dentistry

As Dentists and Oral Health Therapists our goal is to teach you and your family about the importance of effective and continued oral care. By following a simple daily routine and attending regular oral health examinations you can be confident that your oral health is at its best.
Achieving and maintaining perfect oral health will do more for you than help keep your breath fresh and your natural teeth looking good for life. Good oral health is also vital for your overall general health.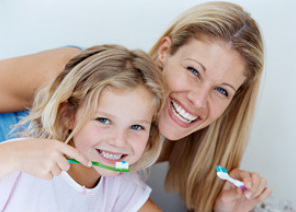 Many recent studies have shown that higher instances of type ll diabetes, heart disease, pre-term births, low birth-weight babies and stroke, is linked to oral health problems such as gum disease, (periodontitis).
Recommended for both adults and children, preventive oral care can assist in maintaining a happy and healthy smile for life