Oral Hygiene Routine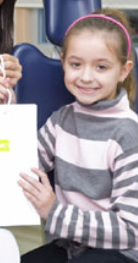 Early development of a good oral hygiene routine, even before your baby's first tooth has emerged, will help healthy growth and maintenance of baby and adult teeth. A soft damp cloth is ideal for gently wiping your baby's gums after they have finished feeding and will assist in preventing the build-up of bacteria. As you notice their first teeth beginning to appear, introduce them to a soft-bristled children's toothbrush and children's toothpaste twice a day.
Young children tend to swallow toothpaste. If they swallow too much fluoride toothpaste it can lead to permanent markings on their teeth. A small pea sized amount of toothpaste on the brush is a safe quantity to use for preschool aged children.
Many children like to mimic the actions of their parents. Showing them how you brush and encouraging them to brush when you do will help children understand that brushing is a normal daily routine.